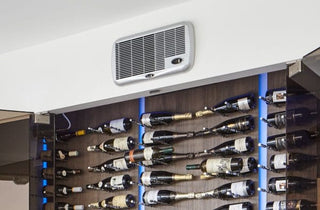 If you're looking for a temperature moderation system that features convenience and simplicity, the Koolr Series cooling units offer customers effortless controls, easy-to-install designs, and integrative technology.
Each Koolr unit boasts energy-efficient capabilities, humidity control, automatic power levels, and a vibration suppression system, allowing wine lovers to both store and enjoy their wine with ease.
With innovative acoustic engineering, the Koolr Series establishes a new standard of quiet, all while maintaining efficiency and value. For high standards and intuitive controls, choose from the Koolr Series.
Specifications & Installation
9 1/8″ H x 15 1/2″ W x 15″ D
Outer Grill Cover Dimensions (outside of cellar)
18 1/2" W x 10 1/2" H
Note that the grill is an opaque white colour and can be spray painted to your color of choice.
115V AC / 60 Hz
Plug into a 3 prong, grounded outlet on a dedicated 15-Amp Circuit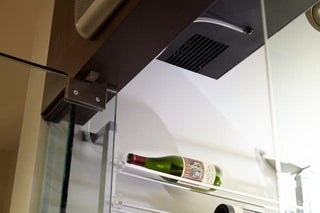 Available with an opaque white and paintable exterior, Koolr units blend in seamlessly with their surroundings.
Meanwhile, its lighted display and auto-adjust smart controls allow for easy-use and compatible programming, streamlining your cellar system experience.
Each Koolr Series unit offers customers superior technology and intuitive designs, including high-level energy efficiency, alarm systems, humidity warnings, vibration suppression, and more.
When it comes to advanced abilities and easy-use controls, the Koolr Series is the perfect solution for cooling your wine collection.
Shipping Information
KoolR Magnums units typically ship within 2 – 4 business days, by Fedex Ground service. You will receive tracking information once your shipment has been dispatched.
Please note that Canadian orders can only be shipped from Canadian stock and processed at the price listed in CAD. US orders can only be shipped from US stock and processed at the price listed in USD. As inventory is country-specific, stock may be available in one country and not in the other, at any time. If the unit is in stock, you will be able to add to cart and checkout. If it is not in stock, online purchasing will be disabled.
Warranty Details
This product is warrantied by KoolR Products.
All KoolR Magnum wine cellar refrigeration units are warrantied for one year from date of purchase (not installation). Assuming this appliance is operated and maintained according to instructions attached to or furnished with the product, KoolR will replace the product or pay for factory specified parts and repair labor to correct defects in materials or workmanship that existed when this major appliance was purchased. Service must be provided by KoolR. YOUR SOLE AND EXCLUSIVE REMEDY UNDER THIS LIMITED WARRANTY SHALL BE PRODUCT REPAIR OR REPLACE AS PROVIDED HEREIN. This limited warranty is valid only in the United States or Canada and applies only when the major appliance is used in the country in which it was purchased. Proof of original purchase date is required to obtain service under this limited warranty.