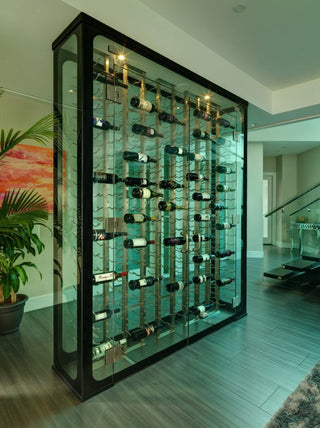 Designed for residential or commercial use, ONAM products are completely self-contained and do not require a refrigeration technician for installation.
Since these units do not require air venting, wall openings are not needed if the units are installed within the wine cellar. The elimination of venting requirements offers more flexibility for unit placement, resulting in a more aesthetically pleasing installation.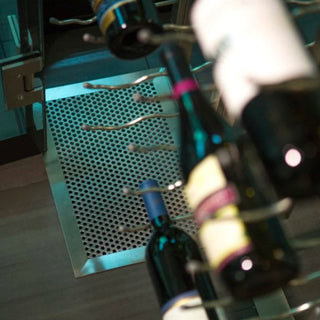 Depending on the model chosen, the unit is either ducted to an adjacent room or completely contained within the cellar, keeping noise levels to a minimum. They are typically installed at floor level eliminating vibration transmission to your wine collection.
Additionally, ONAM units do not reject heat into adjoining spaces but rather pump the heat into city water. Since city water has a relatively stable temperature, your ONAM cooling unit will always operate at peak efficiency. Water consumption is fully regulated to a minimum, at approximately 1 gallon every 5 minutes.
Specifications & Installation
17"w x 23 3.4""d x 24 3/4"h
115V (15 amp dedicated circuit required)
3 x 1/4" FPT plumbing connections required (water supply, water outlet and condensate drain). See utilities rough-in instructions for further details.
Warranty Details
This product is warrantied by M A N Systems.
M A N Systems warrants all their equipment to be free of manufacturing defects both as to workmanship and materials for a period of two years from the purchase date, FOB M A N Systems, Surrey, BC, Canada. If the owner wishes to have the unit inspected and corrected by a local refrigeration contractor, M A N Systems will replace and ship prepaid (four business days air freight within Canada and the continental USA) any defective component, but will not reimburse for any labor charges incurred in the field. However, M A N Systems must be contacted by the field technician while on site so that they can assist with troubleshooting, confirm the issue, and recommend a solution. M A N Systems will determine if the equipment is to be repaired or replaced. Repaired or replacement units will be shipped back to the owner prepaid. Replacement units will be invoiced and a credit will be made for the returned unit only after it has been received and inspected.
Applicability: This warranty applies only if the equipment
a) is installed in accordance with all instruction sheets provided,
b) is properly and reasonably maintained, and
c) has not been subject to damage or misuse.
Limitations, Exclusions, Remedies: There are no warranties that extend beyond the descriptions of the face hereof. This limited warranty is in lieu of all warranties, expressed or implied and of all other obligations or liabilities on the part of M A N Systems. There shall be no implied warranty of merchantability. M A N Systems neither assumes nor authorizes any person to assume for it any other obligation or liability in connection with the sales of its products. Damages for breach of this warranty shall not exceed the lesser of the cost of repair or replacement. Repair or replacement shall be the exclusive remedy available to the purchaser. Under no circumstances shall M A N Systems be liable by virtue of this warranty or otherwise for any special, indirect, secondary, incidental, or consequential damage of any nature to any person or property arising directly or indirectly out of the use or inability to use a warranty product, including any actual or perceived damage of wine stored within the cellar.
Limited Warranty – The Intent: The CW-30 product line is manufactured with the best components the market has to offer. This coupled with CW-30 production experience since 1986 minimizes warranty issues. When issues arise, on site diagnosis of the problem can alleviate costly warranty procedures since most issues can be corrected on site. M A N Systems should be notified of this immediately to ensure technical support will be available during the site visit. A technician can often isolate and correct the problem within minutes if he is directed over the phone by one of M A N Systems' technical representatives. Should the diagnosis lead to the conclusion that a defective part requires on site replacement, M A N Systems will ship out a replacement part at their expense so that it can replaced by the technician. M A N Systems will determine whether to cover the labor cost on an individual case basis. Of course, the customer always has the right to ship (at his expense) any malfunctioning equipment back to M A N Systems for repair within two years of the purchase date. M A N Systems will cover the cost of all parts and labor should there be a legitimate problem due to a defective component or of some manufacturing fault. M A N Systems will determine on an individual case basis which, if any, of the shipping cost incurred by the customer will be covered.