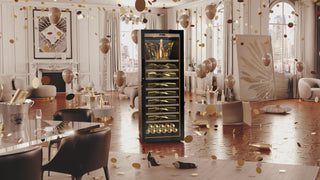 EuroCave wine cabinets are a top choice of true connoisseurs.
Have confidence when choosing this quality French-made brand. Every detail of proper wine storage was considered and achieved in the making of these wine cabinets.

Please note that the majority of the models listed above are in-stock in Canada. Additional Eurocave models can be special ordered with a typical lead time of 14 -16 weeks.
Features unique to EuroCave wine storage fridges, include:
Twin Process Thermal Control: Keep the temperature consistent, even when temperatures outside the cabinet range from 0° – 35°C! Eurocave ensures this with both heating and cooling processes and SRA aluminum walls for even temperature distribution.
"Hygro +" Humidity Control System: Achieve a relative humidity consistently over 50% with stucco aluminum walls for even moisture distribution.
Alarm System: Left the door ajar? Humidity level gone wrong? Too warm or cold in the cabinet? An alarm is triggered to let you know right away (with exception of Premiere line).
Effective Insulation: Eurocave's CQI cellular insulant plus the 5cm cabinet walls are equivalent to almost 2 metres of solid earth!
"Breather Effect" Ventilation: Eurocave cabinets come with a separate vent for air intake and air output. The intake vent also includes a charcoal filter for purifying the air.
Vibration Exclusion: Let your wine rest in peace. The compressor is completely separated from the cabinet and stands on high performance silent blocks.
High Capacity, Sturdy Shelving: Securely cradle bottles of various shapes/sizes in Eurocave's sturdy shelving while maximizing your storage capacity.