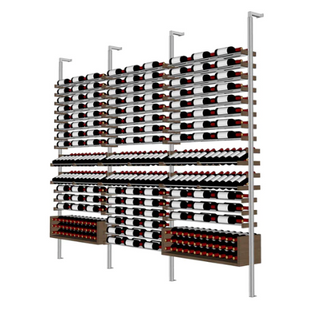 Simple & Sophisticated
Streamline Series
Linear rails display bottles label forward. Choose from 1, 2 or 3 bottles deep and 1 - 9 bottles wide.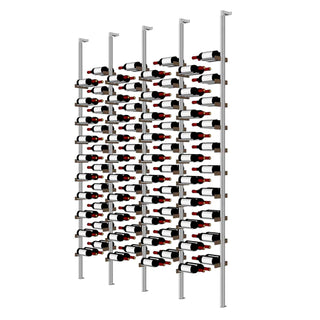 A Minimalist Solution
Floating Bottles Series
Millesime wine racks, minimized. Staggered pegs replace post-to-post rails.
Choose your Millesime Wine Rack Finishes
Clear Aluminum
The original Millesime finish, clear anodized aluminum rails and mounting posts have a soft silver-like finish.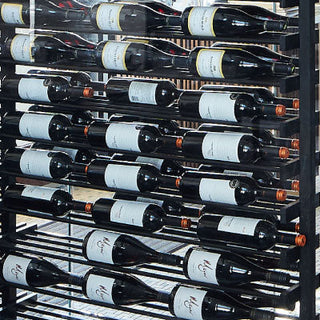 Black Aluminum
Go bold with upgraded black anodized aluminum rails and mounting posts.
Clear Lacquered Walnut
Choose this more natural finish for your end blocks to add warmth to your wine display.
Black Lacquered Walnut
Go black and bold with your end blocks for more masculine wine displays.
Clear Acrylic
Create a wine display that's light and airy with clear acrylic end blocks.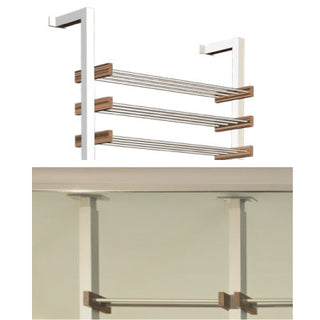 Simple Installation
Minimal Mounting Points
Vertical mounting posts anchor into the floor at the bottom and then either back to the wall or into the ceiling at the top. Get creative with your wall treatment as this wine display system won't impact it!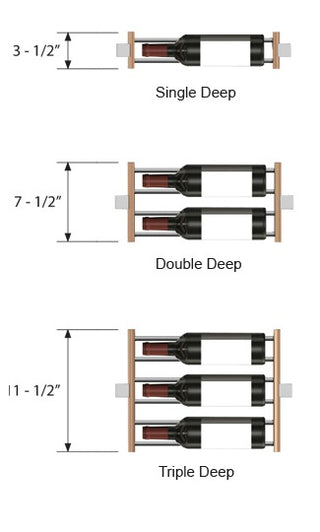 Choose your Capacity
1, 2, or 3 Bottles Deep
Most Millesime wine racks are available in 1, 2 or 3 bottles deep. Go single depth for simple displays or amp up the capacity with triple bottle depth.

Mix It Up
Showcase Special Bottles
A presentation row flips bottles 90 degrees and displays them as a Sommelier would. Presentation rows are available in the Showcase, Display and All-Star series.

Amp It Up
Add U Shelves
Stack bottles, create unique displays or store bottles in their beautiful wood case with U shelves. U shelves are available in the U-Shelf and All-Star series.
Get Inspired
Check Out the Millesime Gallery
See how others have configured and installed their Millesime wine racks.
Millesime Wine Racks Top Seller
Looking for Something Different?