The Stellar
Your Portable Glass Wine Cellar
Customizable, shippable, modern: introducing The Stellar, your new glass wine cellar that will maximize wow-factor and improve the storage of your collection. As a climate-controlled cabinet, The Stellar offers renovation-free assembly that can be integrated into your space without fuss - or mess. A customizable cellar solution, The Stellar is an impressive and functional piece that will showcase your prized bottles.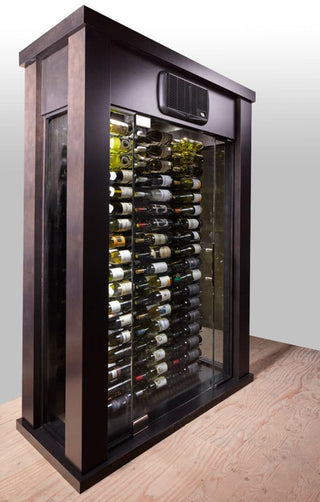 Key Features
Climate-controlled, with a cooling range of 55°F-60°F
Store up to 160 750ml bottles
12mm tempered glass
Satin Black or Brushed Nickel racking finish
LED lighting
Maple wood construction with stained & lacquered finish (other wood species available upon request)
Brushed Nickel hardware (other finishes may be available, please inquire)
Renovation Free Assembly & Installation
The Design Concept: From Request to Reality
At Blue Grouse Wine Cellars, our services and offerings have evolved greatly over the years. Basic wood modular wine racking was our our main product offering in the early days. We continue to sell a great deal of this to clients looking for a more traditional wine storage solution.
As time went on, the call for more modern wine storage solutions grew, making metal Vintage View wine racking a very popular offering. This continues to be one of our best-sellers and is featured as the standard racking offering in The Stellar glass wine cellar.
Clients didn't just want to walk into their wine rooms to see their bottles on display though, they wanted visibility from outside their cellars. Along came windows and even full glass walls. With this came the challenge of cooling these non-traditional spaces. Various solutions ensued, all grounded in thermal load calculations to ensure the cooling unit installed would be sufficient.
One of our most famous projects was made possible by a client who wanted to push the envelope. His desire was to create a full glass wine enclosure to double as a room divider and piece of artwork for the great room of his high-end, West Vancouver home. This stunning design has spread around the online world and within the design community at a scale we never imagined possible. To this day, we receive myriad inquiries about this cellar design from all corners of North America.
Of the designers, homeowners and architects making these inquiries, we are often asked if we can ship a glass cellar. Until The Stellar, the answer has been no. Instead, we would offer design/consultation services as far as building the glass enclosure goes and the client would find a local glazier to complete the installation. We would supply the racking and cooling system. We still do this for clients requiring a truly customized solution.
At Blue Grouse Wine Cellars, we pride ourselves on our creativity and solutions-focused mindset. We were speaking to many clients interested in a glass cellar with a certain level of flexibility, moderate budget and aversion to a messy renovation project. The question of shipping a glass wine cellar became too popular to ignore. Thus, The Stellar, fully-shippable glass wine cellar was created.
Innovative, Stylish, Functional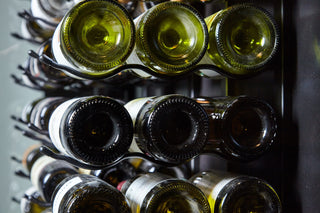 Brushed nickel or matte black metal racking available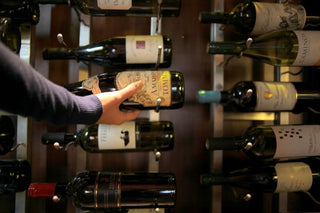 Display bottles & labels clearly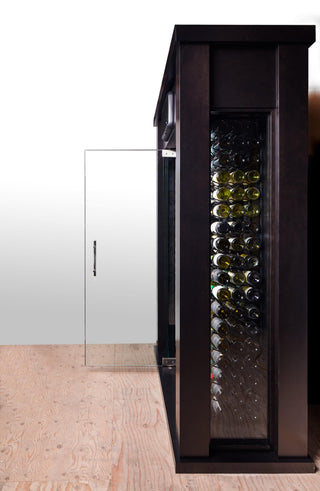 Quality wood construction with tasteful finish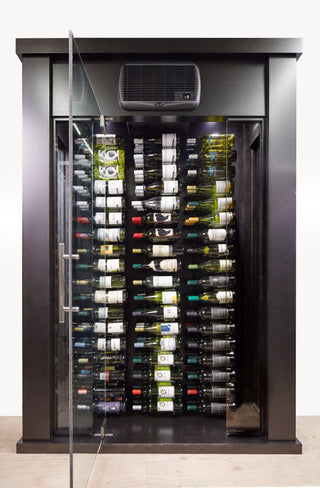 Flexible dimensions & sizing
Standard dimensions are approx 62″ wide x 28″ deep x 90″ high but are slightly customizable to your specifications.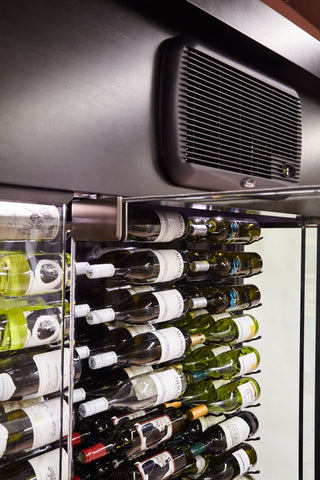 Pricing and Order Information
Our standard unit includes triple bottle deep storage with black metal racking for up to 162 750ml bottles.
Wood components are constructed from high-quality maple with a stained and lacquered finish. Custom wood selection and finish options available
*Please contact Blue Grouse with all price inquiries, as cost varies

Upgrade Options:
Alternate racking system or  finish
Various wood or finish options
Alterations to enclosure dimensions
Contact us today to learn more or place an order!
* Please note that there are limitations to dimensional changes
Contact us for pricing and ordering details.