Wine Barrel Flooring
Reclaim character to your space, with flooring made from vintage wine barrels.
A favorite of countless clients, every piece of flooring is master-crafted and hand-finished, offering uniqueness and distinction to each plank of wood.
A ⅛" veneer from the wine barrel is placed on tongue-and-groove Baltic Birch, with the versatility to be crafted into wine barrel tabletops, countertops, and other cellar surfaces. Or, apply veneers to walls, ceilings, or other surfaces you wish to infuse with a finish.
Distinctive Wine Cellar Flooring
Take a peek at our impressive options for wine cellar flooring.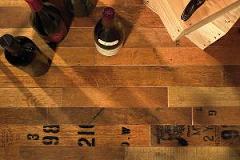 Cooperage Wine Barrel Flooring
Bring history and style into your cellar with Cooperage Wine Barrel flooring. Each plank is crafted from the tops of vintage wine barrels, and showcases unique stamps and markings.
Cooperage Flooring is ½" thick overall and can be fashioned into countertops, tabletops, and other noteworthy surfaces.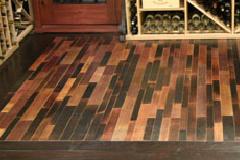 Wine Infusion Flooring
Transforming wine colors into depth of character, our Wine Infusion flooring is crafted from the inside of vintage wine barrels, donating the wood a distinctive and rich color.
Choose Wine Infusion if you're looking for a dark, lustrous finish for your flooring, countertops, tabletops, or other cellar surfaces.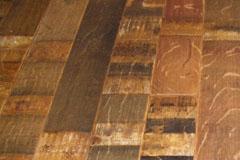 Stave Wine Barrel Flooring
Crafted from the outside of reclaimed wine barrels, our Stave Wine Barrel flooring showcases vintage hoop marks, with no plank the same as the next.
Pair your wine cellar with taste and character using Stave Wine Barrel flooring. With an overall thickness of ⅝", transform this distinctive wood into a countertop, tabletop, or an alternative cellar surface.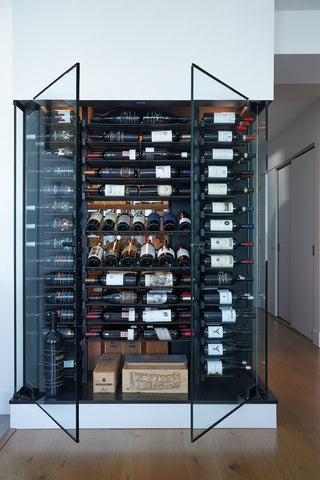 Get Inspired
Visit the Gallery
Check out our previous projects and inspire your vision for bringing a custom wine cellar to life