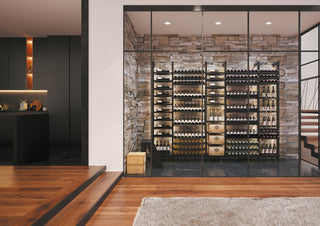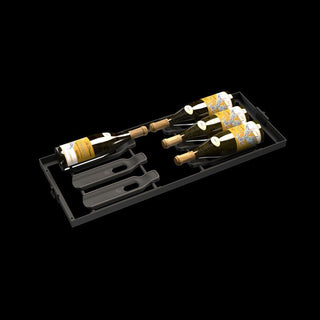 Flexible Capacity & Display
Customize to your bottle capacity with Eurocave Modulo-X wine racking.
All Modulo-X wine racks feature flexible shelf and bottle spacing.
Highlight your collection of the moment, with room to expand in the future. "Main du Sommelier" cradles carefully hold a single bottle each. Simply detach the unneeded cradles and space out the remainders.
Shelving units can be spaced as you like by sliding along a vertical channel. Have a taller decanter to display on a flat shelf? Slide up the shelves above to give it more room. Adjustment is a breeze.
Love the look of Modulo-X racking but want to customize your layout?
Modulo-X racking can be customized in a variety of ways, including:
Ceiling Height
Type and Number of Shelving Units per Column
Lighting Color (eg. lighting can be excluded from your order so you may supply the color of your preference)
Reach out to review your space and discuss options with our design team. Customized design proposals including design and pricing can be provided.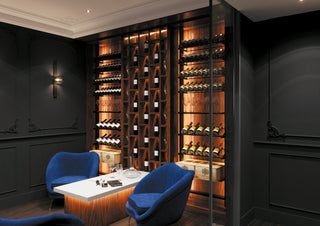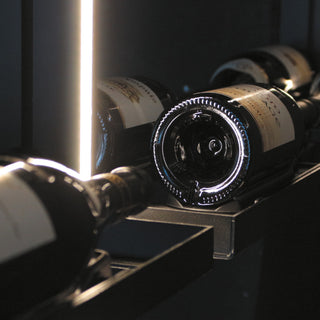 Let it Shine!
Add serious wow-factor to your wine display with Modulo-X's integrated LED lighting.
A subtle, warm white light glows within a channel on every vertical mounting post. LED lighting will not emit heat, making it a suitable solution for temperature-controlled wine cellars.
Position your post to have light shining forward or onto the wall behind the racking. This creates a spectacular atmosphere, highlighting stone, tile or other decorative wall treatments.
All modular racks sold online includes warm white lighting (color temperature: 4000k). Looking for something different? Reach out to review more customized options.
Shipping Information
Orders of Eurocave Modulo-X racking are typically shipped within one week. Smaller orders will ship by Fedex Ground. Larger orders may be palletized and shipped by LTL carrier. How long the shipment takes to arrive to you depends on your address but this typically ranges from 1 - 2 weeks across Canada and the US.
You will be notified and provided with tracking information once the shipment is dispatched. Please note that all deliveries will require an adult signature.
Warranty Details
This product is warrantied by Eurocave Canada.
All components related to the electrical system (ie. lighting, transformer and remote) are covered for a period of one year from date of purchase. Any electrical parts that fail during this period will be replaced, free of charge, including shipping. The customer is responsible for installation.
All other structural components are guaranteed to be be free from defect upon delivery. If issues are detected upon arrival please report within 3 weeks of receipt and replacement parts will be supplied.
Eurocave's Premium Wine Storage and Display Solution
Eurocave's Premium Wine Storage and Display Solution