Specifications & Installation
Running / Startup Amps (compressor)
- CellarPro 1800QTL-ECX: 2.4 Amps / 14.2 Amps
- CellarPro 1800QT-ECX: 2.9 Amps / 20.1 Amps
- CellarPro 1800XT-ECX: 3.0 Amps / 20.1 Amps
174 bottles (Double Deep storage)
Shipping Information
Please note that all Le Cache wine cabinets are shipped fully assembled. It is highly recommended that you check the dimensions of the cabinet against openings or paths that unit will need to transition to it's final placement in your home. Cabinets that cannot be delivered due to restricted access or obstacles can be returned but will be subject to a restocking fee as well as related shipping costs. 
If a model is in stock, it will typically ship within 5 – 8 business days of receiving your order. All orders ship from the factory in Northern California. Shipping timelines vary depending on your location and delivery service selected. Due to the size and complexity of delivering these units, please contact us to obtain a customized delivery quote and confirm in-stock status.
Warranty Details
This product is warrantied by Le Cache Premium Wine Cabinets.

For two years from the date of original delivery, your Le Cache warranty covers all parts and labor to repair or replace any part of the product which proves to be defective in materials or workmanship.

Note that your Le Cache wine cabinet is cooled by a CellarPro cooling unit. For five years from the date of original delivery, your Le Cache warranty covers all parts and labor to repair or replace any components that prove to be defective in materials or workmanship in the cooling unit. Under the terms of this warranty, Le Cache will repair or replace the original cooling unit with a new or refurbished cooling unit and, once replaced, the original cooling unit must be returned to them. The cooling unit is self-enclosed and is located inside the wine cabinet and is mounted to the top of the cabinet.

All service provided by Le Cache under the above warranties must be performed by a designated repair center, unless otherwise specified by Le Cache. Purchaser is responsible for removing and reinstalling the cooling unit from the wine cabinet, and for shipping to and from Le Cache or to and from a designated repair facility.

The limited warranty applies only to wine cabinets purchased from the factory or an authorized dealer. For wine cabinets delivered to Hawaii and locations outside the United States, the District of Columbia or Canada, the limited warranty applies to the cooling unit, but it does not apply to the wine cabinet. Damage caused by others or by any cause beyond the control of Le Cache, shall not be considered defects in material or workmanship and are not covered by the warranty. The limited warranty does not cover any parts or labor to correct any defect caused by negligence, commercial use, accident, or improper use, maintenance, installation, service or repair. The limited warranty also does not cover any parts or labor to correct any damage caused by severe temperature variations, direct sunlight, extremely dry conditions or great humidity changes.

THE REMEDIES DESCRIBED ABOVE FOR EACH WARRANTY ARE THE ONLY ONES, WHICH LE CACHE WILL PROVIDE, EITHER UNDER THESE WARRANTIES OR UNDER ANY WARRANTY ARISING BY OPERATION OF LAW. LE CACHE WILL NOT BE RESPONSIBLE FOR ANY CONSEQUENTIAL OR INCIDENTAL DAMAGES ARISING FROM THE BREACH OF THESE WARRANTIES OR ANY OTHER WARRANTIES, WHETHER EXPRESS, IMPLIED OR STATUTORY.

Some states do not allow the exclusion or limitation of incidental or consequential damages, so the above limitation or exclusion may not apply to you. This warranty gives you specific legal rights and you may also have other legal rights, which vary from state to state.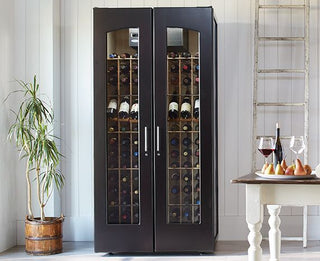 Since 1991, Le Cache has been crafting premium wine cabinets and elegant cellar solutions. With a focus on long-term storage and quality designs, Le Cache believes that a wine cabinet should look as distinctive as its performance.
The goal at Le Cache is to unite customers with a wine cabinet that offers the ideal environments for ageing and preserving your wine collection. Le Cache: fine furniture for fine wines.
With a variety of models and designs available, our diverse cabinets offer an array of highlights. Here are some features respective to each unit, depending on your selection:
Double-pane tinted glass
Black laminated walls
Front vent hood
Premium cherry wood veneer
Hardwood construction
Quality hardware
Security locks
Hand-carved trim
Crown & base mouldings
Our wood variety models are a unique combination of craftsmanship and quality. With hardwood construction and a premium cherry wood veneer, these elegant units preserve your wine with function and style.
The hand-carved trim and crown and base mouldings are one-of-a-kind, with stainless bar pulls and security locks for each piece.
Regal yet unassuming, you'll be graced with the abilities of an innovative cooling unit, paired with a sleek and stylish demeanour.