Shipping Information
Please note that due to fluctuating stock availability, some items may be back ordered. When placing an order, your credit card is authorized only. Stock is then verified and if anything is on back order, you will be notified before your payment is processed. If you are unable to wait, you may cancel your order.
For Orders Shipping to Canadian Addresses:
Orders may take up to 3 weeks for shipping. Orders will be shipped by Canada Post ExpressPost or Fedex Ground service. You will receive tracking information once your order has been dispatched.
For Orders Shipping to US Addresses:
Orders are typically shipped within 3 - 10 business days. Orders will be shipped by UPS Ground service. You will receive tracking information once your order has been dispatched.
Warranty Details
This product is warrantied by its manufacturer, Wine Master Cellars.
Wine Master Cellars ("WMC") warrants to the original consumer-purchaser that this product shall be free from defects in workmanship and materials under normal and reasonable use for the lifetime of the product.
WMC will, at its option, refinish or replace any product or part found to be defective during the warranty period and excludes installation charges, shipping charges, and cost of removal and reinstallation. WMC may require you to return the part(s) claimed to be defective, for its inspection – freight or postage prepaid.
This warranty does not include the cost of any inconvenience or property damage due to the failure of the product and does not cover damage due to misuse, abuse, accident, or damage arising out of transportation of this product. THIS WARRANTY IS EXCLUSIVE AND IN LIEU OF ALL OTHER OBLIGATIONS, LIABILITIES OR WARRANTIES. In no event shall WMC be liable or responsible for INCIDENTAL OR CONSEQUENTIAL DAMAGES or for any other direct or indirect damage, loss, cost, expense or fee. Neither the WMC distributor nor the retail establishment selling this product has any authority to make any warranties or to promise remedies in addition to or inconsistent with those stated above. WMC's maximum liability, in any event, shall not exceed the purchase price of the product paid by the original consumer-purchaser. Some states do not allow the exclusion or limitation of incidental or consequential damages. In such a case, the above limitations or exclusions may not be applicable.
This warranty gives you specific legal rights, and you may also have other rights which vary from state to state.
Vino Series: for every style, and every collection. Whether you're looking for wall or floor-to-ceiling mounting systems, the Vino Series has everything you need to display and store your wine with convenience and charm.
With a variety of styles, frames, and finishes, Vino Series wine systems are designed to offer customers flexible storage for their unique spaces. From classic to contemporary, this versatile series of racking allows you to display your collection in a variety of ways.
Vino Series offers a wide range of options, including the opportunity to customize the following elements:
Label or cork forward orientation
Wall or floor-to-ceiling mounting
Various finishes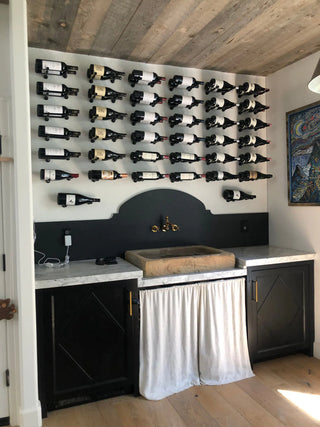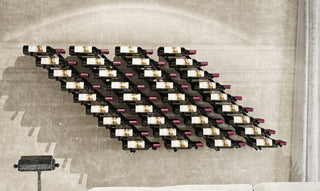 When it comes to Vino Series pins and rails or mounting systems, you can choose from a contemporary selection of designs and finishes, including matte black, gloss black, gunmetal, and golden bronze.
Next, all you have to do is create a design and watch as your custom wine storage comes to life!
The Vino Series includes a modern, sleek, and easy-to-install display rack option, where you can customise the finish - and the wall layout.
Whether you choose classic matte black, or go with diagonal wall racking, your VIno Series display will give your room - and your wine - a "wow" factor.