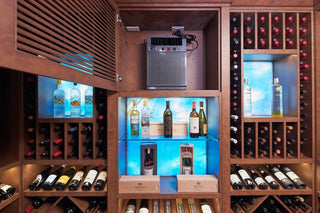 To age optimally, wine requires a balance of temperature and humidity. The temperature affects the rate of maturation while the right humidity keeps corks in good shape during the aging process. Dry corks crack and allow wine to oxidize. Excessively wet corks rot, causing mold to develop.
Wine collectors agree that the ideal temperature for maturing fine wines is 55F-60F and that the humidity should be carefully balanced between 50%-70%.
WhisperKOOL achieves these optimum conditions by cooling the cellar slowly. As the temperature in the cellar begins to drop, the relative humidity will rise, creating the ideal environment for aging wine. WhisperKOOL incorporates an efficient environmental stabilization system in compact, easy-to-install, self-contained units or more advanced split systems. Cooling units and systems are built in a variety of sizes for wine cellars, ranging from 300 to 2,000 cubic feet (properly insulated and sealed environments).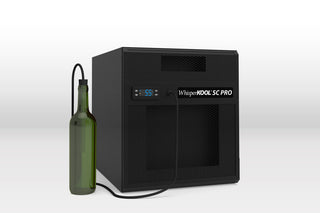 The unique difference between the WhisperKOOL system and traditional air-conditioning units is the maintenance of well-conditioned humidity. Traditional air-conditioning units are designed to cool air quickly; as a result, humidity is removed, leaving air dehydrated.
Specifications & Installation
39.5"L x 26"H x 14.25"W (w/ duct plenums)
115V (20 amp dedicated circuit required) 230v (subject to availability)
1/2" ID clear plastic tubing (not provided)
10" return, 8" supply (ducting not included)
Shipping Information
Orders of this item are typically shipped anywhere from 3 - 10 business days from the date of order. If you would like a more specific estimate, please contact us.

Smaller refrigeration units will be shipped by common carrier such as Fedex or UPS. Larger refrigeration units or systems will be shipped on a pallet via an LTL freight carrier and delivered curbside with a power tailgate. Shipping may take anywhere from 1 - 2 weeks, depending on your location.
Please note: If this unit is on backorder or subject to longer lead times, it will be noted at the top of the page, below the product title.
Warranty Details
This product is warrantied by WhisperKOOL
Two (2) Year Limited Warranty

For the period of TWO (2) YEARS (the "Limited Warranty Period") from the date of original sale of a Product by WhisperKOOL, if a WhisperKOOL Product is found to be defective in material or work-manship after undergoing WhisperKOOL's customer service troubleshooting, then, subject to the WhisperKOOL Product Limited Warranty Limitations and Exclusions as well as the other Terms and Conditions stated herein, WhisperKOOL will do the following, as appropriate, for the end user ("End User") who has installed and is actually using the Product, with regard to LABOR, PARTS and FREIGHT:

1. LABOR - repair or replace (at WhisperKOOL's sole option) the Product to the End User; and
2. PARTS – supply to the End User, new or rebuilt replacement parts for the Product in exchange for the return of defective parts; and
3. FREIGHT – cover normal ground freight charges for parts, and, in the event the Product is not repairable in the field, cover normal ground freight charges (within the continental United States) for the repair or replacement of the Product.
Five (5) Year Compressor Limited Warranty  
WhisperKOOL Products' compressor only will be covered for five (5) years from date of purchase.  Labor and freight of the compressor is the End Users responsibility.
Product Warranty Limitations and Exclusions:

This limited warranty does not cover cosmetic damage caused during installation, damage due to acts of God, commercial use, accident, misuse, abuse, negligence, or modification to any part of the Product.Delivery and installation of the Product, any additional parts required, as well as removal of the Product if warranty work is required, are all at the sole cost, risk and obligation of the End User.
This limited warranty does not cover damage due to improper installation or operation or lack of proper maintenance of the Product, connection of the Product to improper voltage supply, or attempted repair of the Product by anyone other than a technician approved by WhisperKOOL to service the Product.
This limited warranty does not cover any Product sold "AS IS" or "WITH ALL FAULTS."
Product that has been replaced during warranty period does not extend the warranty period past the original date of purchase.
Proof of purchase of the Product in the form of a bill of sale, receipted invoice or serial number, which is evidence that the Product is within the Limited Warranty Period, must be presented by the End User to WhisperKOOL in order to obtain limited warranty service.

This limited warranty is void if the factory applied serial number has been altered or removed from the Product.
This limited warranty is voided if installed in an enclosure of insufficient design that does not follow the Product installation requirements stated herein and in the owner's manual.
Removing the rivets from the Product's unit housing without prior authorization from WhisperKOOL voids this limited warranty. 
The End User must first contact WhisperKOOL Customer Service by telephone (at 1-800-343-9463) prior to attempting service on any Product still under the limited warranty; else the limited warranty is voided.
This limited warranty does not cover Product being concealed by, but not limited to, vegetation, fabric, shelving, mud, snow, or dirt. Product must not be painted or limited warranty will be void.
This limited warranty does not cover exposure to corroding environments such as, but not limited to, petroleum and gasoline products, cleaning solvents, caustic pool chemicals, and marine air.
This limited warranty does not cover any cause not relating to Product defect.
THE REPAIR OR REPLACEMENT OF THE PRODUCT AS PROVIDED UNDER THIS LIMITED WARRANTY IS THE EXCLUSIVE REMEDY OF YOU, THE END USER, AS WELL AS ANYONE ELSE IN THE CHAIN OF TITLE OF THE PRODUCT, DOES NOT START A NEW LIMITED WARRANTY TIME PERIOD, AND IS IN LIEU OF ALL OTHER WARRANTIES (EXPRESS OR IMPLIED) WITH REGARD TO THE PRODUCT. IN NO EVENT SHALL WHISPERKOOL BE LIABLE FOR INCIDENTAL, CONSEQUENTIAL, SPECIAL OR CONTINGENT DAMAGES FOR BREACH OF ANY EX-PRESS OR IMPLIED WARRANTY ON THIS PRODUCT. THE IMPLIED WARRANTIES OF MERCHANTABILITY AND FITNESS FOR A PARTICULAR PURPOSE ARE HEREBY EXPRESSLY DISCLAIMED. 
Some states do not allow the exclusion or limitation of incidental or consequential damages, or allow limitations on how long an implied warranty lasts, so the above limitations or exclusions may not apply to you. This limited warranty gives you specific legal rights, and you may have other rights, which vary from state to state.
Failure of the End User to comply with all of the Product Installation Requirements, Maintenance Requirements and End User Requirements may, at WhisperKOOL's sole discretion, void this limited warranty.
No one has any authority to add to or vary the limited warranty on this Product.
Product Installation Requirements:
Prior to installing a WhisperKOOL Product, the End User must read the WhisperKOOL Owner's Manual and thereafter the End User must follow the required installation, use and maintenance procedures set forth by WhisperKOOL in WhisperKOOL's Owner's Manual.
Maintenance Requirements

It is the End User's responsibility to clean off any accumulated dust, lint, or other debris from the front and rear intake grills; failure to do this on a regular basis will restrict the airflow and may affect the Product's ability to function properly. Periodically cleaning the Product's vents will help assure maximum cooling efficiency.  The drain tube must also be checked and kept clean and free of debris and mold to maintain proper performance. Mold is a natural living organism in the environment. It exists in the air in the form of microscopic spores that move in and out of buildings through doors, windows, vents, HVAC systems and anywhere else that air enters. Once it is discovered, mold must be addressed quickly and appropriately.

Additional End User Costs And Responsibilities

The following items are not covered under any warranty and are the sole responsibility of the End User:
End Users should satisfy themselves that the Product they are purchasing is suitable for their particular needs and requirements, and thus no responsibility will be placed with WhisperKOOL for the End User's decisions in this regard.
It is the End User's responsibility to secure safe haven/storage for ANY AND ALL items that are being kept and stored in the End User's wine cellar, including any Product.  WhisperKOOL takes no responsibility for the safety and preservation of the aforementioned items in the event that the environment becomes unsuitable to maintain a proper storage environment.
End User is responsible for initial installation costs, including, but not limited to, labor costs and the cost of any additional parts necessary to complete the installation.
End User is responsible for all costs incurred for the installation and/or removal of the Product, or any part there-of, unless such cost has been agreed by WhisperKOOL to be a warranty repair prior to the work being performed.

Customer Service and Troubleshooting

WhisperKOOL's customer service department is available to answer any questions or inquiries for End Users regarding a WhisperKOOL Product, as well as to assist in performing basic troubleshooting, Monday through Friday, from 6:30 a.m. to 4:00 p.m. PST, at telephone number 1-800-343-9463.  WhisperKOOL Corporation is located at 1738 East Alpine Avenue, Stockton, California 95205.