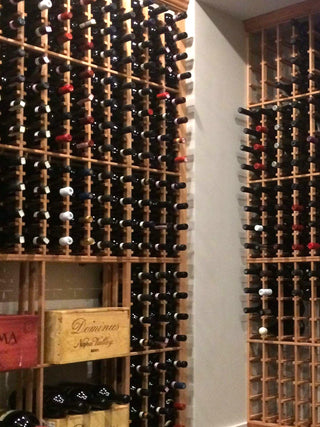 Vintage Keeper modular wine racks provide an attractive, economical solution for wine collectors.
This racking system can be added on to at any time giving you the freedom to expand your wine cellar at will.
No need to call in the custom cellar designer or purchase a whole new wine cabinet – just buy the pieces you need to fit your newly expanded space and voila!
For aesthetic purposes, there are no plugs on the front of these racks. The edges are smooth and have a clean, streamlined and professional look.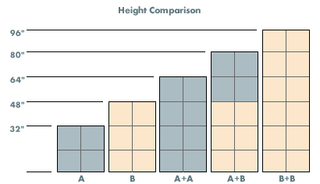 Height Flexibility
Available in 2 heights (A – 32″ and B- 48″), this modular wine rack system is stackable to allow for a number of configurations to suit your needs and requirements.
The racks are 9″ deep, with the actual racks themselves being 6 1/4″ deep. With the hardware (plastic brackets) they will sit 2 3/4″ away from the way, for a total depth of 9″. Bottles will stick out approx 3″ beyond the depth of the racking.